Elementa
Elementa was powerful. Is powerful. But now she's washed up and burnt out.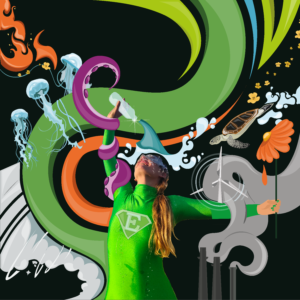 Presenting a one-woman show about a planet-saving superhero who's lost her mojo.  The good old days of battling environmental supervillains like Fogzilla and Tidal Dave are long gone, as her time is now filled trawling trenches for litter and refreezing the ice caps, one cube at a time.
An endearing and exasperated comedy with a refreshingly imperfect eco-warrior protagonist from writer-performer Sian Eleanor Green, touching down in Greenwich fresh from a successful debut at the Edinburgh Fringe!