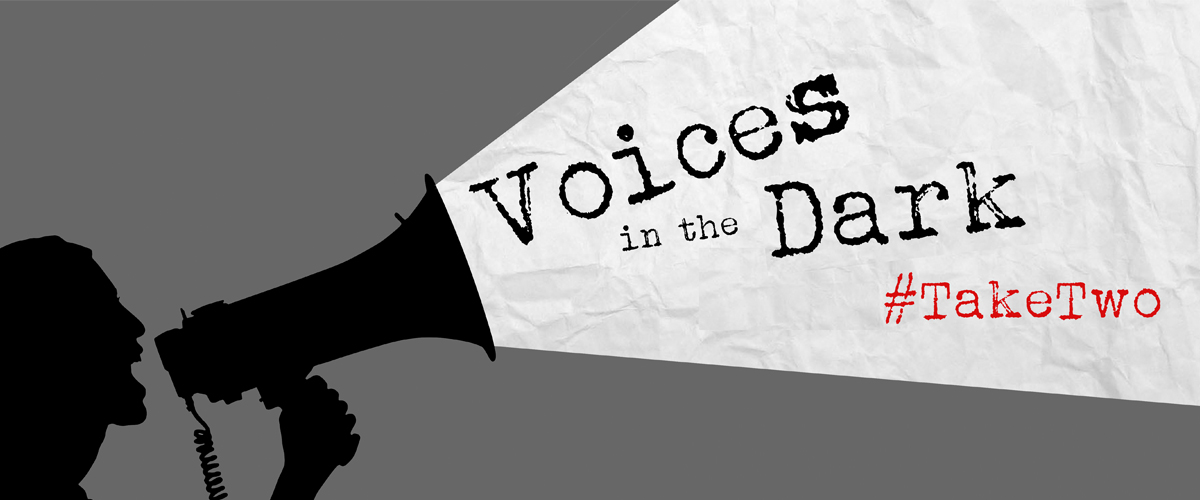 Voices in the Dark #TakeTwo
Friday 24th July – Saturday 25th July
7:30pm
​CultureClash Theatre are pleased to announce the final 6 plays for their second new writing event – Voices in The Dark #TakeTwo.
Voices In The Dark will stream for free on our Facebook page at 7.30pm on Fri 24 and Sat 25 July 2020, and then both streams will be available to watch until Sunday 2 August on our YouTube channel.
THE INIQUITY OF US ALL by Kit McGuire
The Iniquity Of Us All presents Jude, a queer twenty-something who has clearly just been beaten to a pulp.  But before we get to that, Jude would like to talk to us about this book they've been reading in lesbian book club.
Directed by James Haddrell
Performed by Kit McGuire
FORTS: A MILLENNIAL TALE by Mariella Hudson 
Terrorist! Terrorist! Terrorist! Money! Money! Money! Confidence! Confidence! Confidence! Where are they? Where are they?
A satirical comedy on millennial anxieties in a neoliberal world. Alienation has never been so fun.
Directed by Mariella Hudson
Performed by Hamza Jeetooa and Natalie Perera
With a cinematic zeal, Nick and Frank, two young lads recount a night out painting Liverpool town a deeper shade of rouge. The banter, the body spray the booze, bangers and birds, they speak of three musketeers setting out to do battle in a psychedelic haze.
Their kaleidoscopic fable features music that throbs and subsumes our warriors as it seeps into their bones; enticing them into a hedonistic utopia until….reality collides.
But what of the third musketeer? Why would only two convey a classic tale forged for three?
Directed by Liam Fleming
Performed by Adam Karim and Esmonde Cole
George was isolated long before coronavirus came along. Seventy years old, his existence has become a very lonely one, and what little contact he has with people is through the internet. But amidst the chaos of the pandemic he meets Katie and through their relationship he starts relishing life again, just as it becomes dangerous to do so. In a time when the act of seeing someone you care about suddenly involves serious moral decisions, George has to face up to who he is, and tackle the timeless question of how far one really loves another person for their sake, or just for one's own.
Directed by James Haddrell
Performed by Nigel Betts
A British Asian man stumbles through the pressure cooker of millennial life. He's told that this is a new age, a safe space, a wave of change to ride and embrace. But when the structures of power begin to shift, who's really in control? Can we invite people in without pushing others out? And what happens when the burden of diversity begins to weigh down on those who need it the most?
Directed by Lata Nobes
Performed by Hamza Jeetooa
KNOTS by Laurence Giltrow-Shaw
Three people find themselves forever interwoven and bound by a single moment in time.
KNOTS is a short play that explores the lasting damage unspoken things can have over time, if allowed to take root and grow.
Directed by David Weiss
Performed by Cassandra Hercules, Jamie O'Neill and Serin Ibrahim