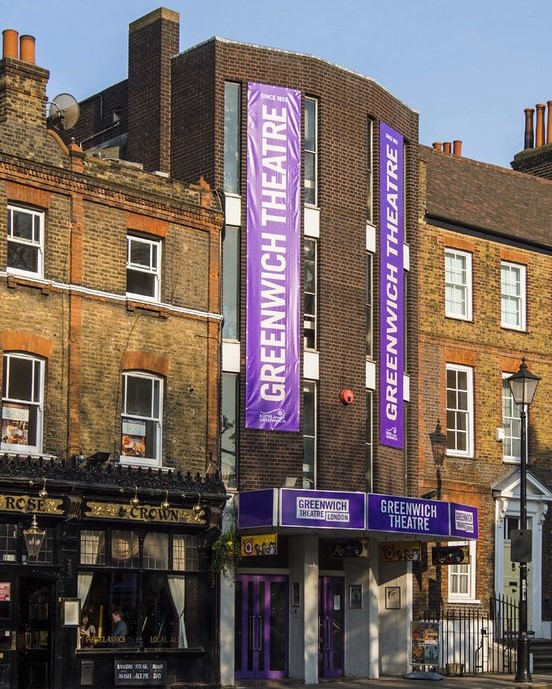 BOARD OF TRUSTEES
Nigel Fletcher (Chair)
Nas Asghar
Lucy Cuthbertson
Sophie Hamlet
Christopher Hogben
Gerald Lidstone
Catherine Nolan
Nareem Rehman
David Stanley
PATRONS
Dame Helen Mirren
Lucy Bailey
Ali Smith
GREENWICH ANGEL SUPPORTERS
Arnold Lord, Guardian Angel
Cris Amankwah, Freelance Fundraising Support
ARTISTIC DIRECTOR, JAMES HADDRELL
What's your connection to theatre and where you've worked to build the skills, experience and expertise that you currently have?
"I've worked at Greenwich Theatre, in various roles, since 2001. I started as Press Officer and then Marketing Manager before taking over first as Executive Director in 2007 and then becoming Artistic & Executive Director a few years later as we developed our in-house production and co-production plans. Now, as part of a recent company restructure, I run the company as Artistic Director alongside our Executive Director, Simon Francis.
Before coming to Greenwich I worked at the Warehouse Theatre in Croydon as Marketing Manager, and alongside my role here I direct, produce and project manage a range of arts and culture projects, including producing the national tour of Skin In The Game (Winner: Best Performance, Birmingham Fringe) and directing for St Marys University in Twickenham and Global Fusion Music & Arts here in Greenwich. I am currently developing a new musical theatre concept for children, blending stage performance, radio broadcast and graphic novel production, with grant support from Arts Council England.
I teach drama in primary, secondary and undergraduate settings and I am a regular industry panellist for a range of initiatives, including the annual Cameron Mackintosh Resident Composer Scheme. I have worked as an official mentor for UK Theatre and have written for The Stage Newspaper, the Chambers Encyclopaedia of Modern Theatre and continue to write weekly for the South London Press."
What does your role at Greenwich Theatre involve?
"Greenwich Theatre is a very special place, and leading the company here for over a decade has proved to be an astonishing experience. Getting the chance to support so many early career artists, to welcome so many children to their first ever theatre experience (and then see them come back again and again), to steer the programming for a venue that serves such a wide audience, and to work both with new playwrights and with some of the country's most respected writers, from Caryl Churchill to Michael Frayn – I count myself very lucky to be a part of Greenwich Theatre."
Favourite live performance you've ever seen?
"Elephant by Dodgy Clutch in association with the Market Theatre, Johannesburg (which we were lucky enough to bring here to Greenwich), Jessica Lange and Ed Stoppard in The Glass Menagerie in the West End, A Clockwork Orange by Action To The Word and Puddles Pity Party at the Edinburgh Fringe."
Any fun hobbies? 
"With two young children and running a theatre I haven't got much time left over!"
Taylor Jay, Marketing Manager
FINANCE OFFICER, Tom Kemp
Upon leaving school I joined Chappells Music Publishers (part of the PolyGram Group) as a Junior Accounts Clerk. Then over the next 9 years I progressed through the group working in different branches covering Direct Marketing of Records & Cassettes, Music Video productions and finally films and television programmes where I was Assistant to the Financial Controller.
My next venture resulted in 18 years for a PR Company dealing in the Film, Television and Entertainment Business. This included the various Festivals throughout the World and this included the likes of Cannes, AFMA, Mifed, Midem and BAFTA etc.
Now in my twilight years, I'm now in the one branch of the entertainment industry that I had not previously encountered and am enjoying the fact that I have the great good fortune to work for something that brings pleasure to so many people every year.
Brad Tutt
Administrator & Projects Manager
Administrator & Projects Manager, Brad Tutt
What's your connection to theatre and where you've worked to build the skills, experience and expertise that you currently have?
"I've loved theatre all my life, studied Drama, Theatre and Performance at Roehampton University, and have a huge interest in plays and new writing. I've been at Greenwich Theatre since March 2018."
"The Front of House/Bar at The Other Palace showed me how a professional theatre is structured and ran from the other side. The management there showed and taught me a lot. It introduced me to the great work that touring companies and regional theatres do. Working the Chelsea Theatre taught me how theatre ties with community and its audiences (it literally being a part of a community centre in an estate). And here! Every day I feel like I'm learning more about production, building management and theatre's importance to its audiences."
What's the best about working at Greenwich Theatre?
"Every day is different! The diversity of shows we have here and number of companies that visit and that we support keeps it interesting and creatively rewarding!"
TECHNICAL MANAGER, Caz Hampton
What's your connection to theatre?
"I have always been involved with theatre from a young age in Pantos and then getting onto a technical course and then studying stage management at university."
How long have you been working at Greenwich Theatre?
"Formally, it will be 2 years in Feb (joined two weeks before lockdown eep!) but I have been a casual for the theatre for just over 8 years."
How and where have you built the skills, experience and expertise that you currently have?
"Throughout university I was working in various performance areas…like opera, comedy and circus. This helped improve my adaptability skills. I worked at White Light as a site technician which is where I built my lighting and audio skills along various live events (corporate events, London Fashion Week, Brand Launch events, Royal charity functions, Christmas lighting displays, Film and TV work).  My roles at Greenwich Theatre as a casual built my experience as I already know the building and its history has set me up for my role here!"
Name one good thing about working at Greenwich Theatre and why.
"I adore the Pantos that Greenwich produce and I love being part of that process."
RESIDENT TECHNICIAN, Carrie Hennessy