Greenwich Theatre invites you to their Children's Easter Programme…
Fancy meeting The Gruffalo or Margot & Mr Whatsit! Why not visit some endangered creepy crawlies with us at The Bug Hotel or experience some infant opera by HurlyBurly Theatre?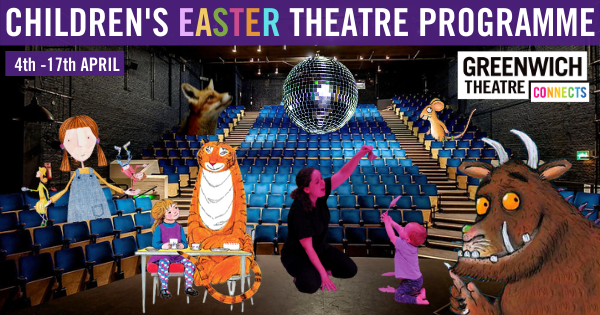 One of the things that upset us most as we closed our doors at Greenwich Theatre during the Pandemic was the loss of our family programme! The pantomime and the Greenwich Children's Theatre Programme are certainly the mainstays within the  year but we offer family theatre and participatory activities all year round, so seeing all of that disappear was heartbreaking.
Whenever we watch  shows at Greenwich we like to sit at the back, so we can watch the audience reaction as well as the performance on stage, and there's nothing more joyful than watching an auditorium full of children loving a show. They are our most honest critics when we get it wrong, and our most vocal supporters when we get it right.
Whatever your kids are into we've got you covered entertainment wise this Easter! We are delighted to be able to offer a great programme of shows and workshops for families this Easter, bringing a a collection of well known and new stories to the stage, and a host of young audiences back to the theatre.
Kicking off the programme on April 7th HurlyBurly Theatre brings us Meet Me a Tree, an interactive first opera for 0-2 year olds and their carers with music by Schumann, Delibes and Handel. With beautiful singing and relaxing music at its core this multisensory journey is an opportunity to unwind and have fun for new parents, carers and babies.
HurlyBurly Theatre also brings The Bug Hotel to Greenwich, throwing open its doors to families with children aged 0-2 to come and take part in the Great Bug Ball. Join the Woolly Bear caterpillar and friends on a journey of discovery featuring classical voice, guitar and multi-sensory play whilst being introduced to some of the UK's most exciting and, sadly, endangered insects. With performances off site at Charton House on Sat 9th – Sun 10th April, NOT at Greenwich Theatre.  Click here for directions to Charton House. 
April 13-14 you can join Mouse on a daring adventure through the deep, dark wood in Tall Stories' magical, musical adaptation of the classic picture book The Gruffalo  by Julia Donaldson and Axel Scheffler. Songs, laughs and monstrous fun for children aged 3 and up and their grown-ups, in the much-loved show that's toured Britain and the world!
Paddleboat Theatre bring us Margo and Mr Whatsit from 15-16 April, a show about playful imaginary friends and what happens to them as we grow up, for kids aged 4+. This interactive make-believe tale where the real and imaginary collide, and friends are never far away is not one to miss! Special post show workshops are only £3 extra and make a wonderful addition to the theatrical experience for your little ones.
Fancy seeing some family friendly theatre a little later in the year? We've got you covered!
In May…
The award-winning Travelling Light presen Vixen, an original story by Matt Grinter about Saffie, a young girl who lives on an estate with her Dad, who after being scratched by a vixen in the raincoat man's garden begins to transform and dreams of running away to live with her fox family. Vixen is a show for kids aged 7+ and is here at Greenwich Theatre 10 – 11 May.
In June… 
Direct from the West End, the Olivier Award nominated smash hit show,The Tiger Who Came to Tea returns on tour. The doorbell rings just as Sophie and her mummy are sitting down to tea. Who could it possibly be? What they certainly don't expect to see at the door is a big, stripy tiger! Join the tea-guzzling tiger in this delightful family show; packed with oodles of magic, sing-a-long songs and clumsy chaos. Don't miss this stunning stage adaptation of the classic tale of teatime mayhem… expect to be surprised!
If you plan to see more than one of these productions why not consider purchasing a family membership, to save on your multibuy purchases and receive other exclusive offers?