When writers, producers and venues look for inspiration for their next new production, it's common to consider stage versions of existing stories.
Adaptations give a framework for a writer, a narrative to recreate, and we've long had to accept that a recognisable title is often easier to sell to an audience than a piece of new writing.
That can wholly discourage writers from approaching new stories so I have long championed initiatives to support new writers (every story was new, or somewhat new, once upon a time).
However, that's not to say that I don't welcome a strong adaption of an existing story.
From musicals like Matilda and The Phantom Of The Opera to plays like The Curious Incident of the Dog in the Night-Time or War Horse, the best adaptations can take on a life and an identity of their own, different from their source material, and no less exciting.
There are perils to adaptation though, and nowhere more evident than in adapting children's stories.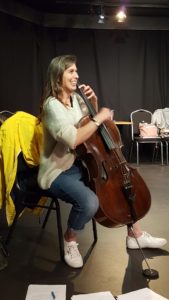 I have just embarked on a project with composer Chloe Bezer, (pictured) to adapt Brazilian fairytale The Story Of The Yara for theatre and radio, but like so many fairytales, the story is woefully outdated in its social and cultural representations.
Think about the fairytales we all cherish – Cinderella, where the happy-ever-after for the poor woman can only come with a good marriage to a wealthy man, Red Riding Hood, where it takes a male woodcutter to save the inept grandma and little girl from the evil wolf, or maybe worst of all, Sleeping Beauty, where a young woman's coming of-age brings a whole city to a standstill until a handsome prince kisses her in her sleep and promptly makes her his wife.
Stories are part of our cultural heritage of course, but they're also part of how we begin to understand the world as we grow up, so it's important when making work for children to ensure that we're presenting a view of the world as it is now, and as we want it to be.
The Story of the Yara is an example of a tale that can be found repeated in many cultures around the world, about a siren or a mermaid that lures men to their death with its voice.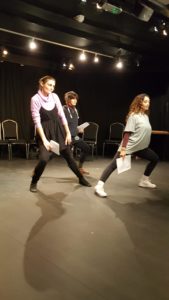 It's an ideal story to put to music, as it has music at its heart, but it contains many of those recurring ideas about power and gender that we find in traditional folk tales – in this case, a good man who will either be undone by the temptation of a wicked woman, or find a happy ending (after his dalliance in the water) with an endlessly forgiving, innocent woman.
For us then, the gender of the Yara has to become inconsequential – the issue is temptation itself. The young woman who waits patiently in the village for her man to escape the Yara has to be far more empowered. In the story the man is also reported to have arrived from another place, and to have killed a wild dog in order to be accepted – like Red Riding Hood, it takes a man to arrive and save the young woman from the animal.
(pictured: Emily Holroyd, Georgia Russan and Rhiannon Bacchus in rehearsals at Greenwich Theatre)
Maybe, in a story for today, it shouldn't need a man to do that? And maybe there can be more to the wild dogs than meets the eye?
We are now preparing to take our adaptation into a school to see what an audience of children make of it. With any luck we've created a story that is exciting and inspiring, and that paints a picture of the kind of world that they want to live in – and if not, I'm relying on them to tell me…